CollegeBacker's 529 Day COVID-19 Survey Shows Half of Families Impacted
Our new survey has found that nearly half of families saving for college plan to pause, decrease, or withdraw savings set aside in their kids' college fund because of COVID-19-related financial woes.
We conducted the online survey of 1,209 U.S. residents between the ages of 25 and 55 took place between May 1 and May 7, 2020.
In the COVID-19 survey, 46% of parents saving for college said they had paused (16%) or reduced (13%) contributions or planned to withdraw funds (17%) from their college savings. Household income was a major factor, with 64% of families with household income less than $50,000 impacted by COVID-19, compared to only 37% of those earning $100,000 or more. More than two thirds of those withdrawing funds had lost their job or had their wages reduced as a result of COVID-19. About half of families making withdrawals said they had a child within 5 years of attending college, so it may be difficult for them to recoup their losses in time.
Notably, families using a traditional savings account for their college fund were 3 times more likely to withdraw (23%) than families saving with a 529 plan (8%). Although 529 plans offer significant tax advantages, less than half of college savers are enrolled in a 529 plan.
"We were encouraged to see that the vast majority of families were not pulling funds out of their 529s to help make ends meet in the current emergency," said Lee. "It appears that most families are prioritizing saving for their child's future and thinking about their college savings for the longer term, which is consistent with how 529s fared during the 2008 Great Recession. However, we're still concerned that a lot of families are going to lose ground during this crisis, so we've focused our energies on new features to help families save even when times are tough."
"Even before COVID-19 struck, student-loan-burdened millennial families were having trouble saving for their kids' college," said Lee. "With the surge of online shopping, Backer Bucks provides a way for them to add to their college savings without diverting scarce financial resources."
Families can also earn cash rewards thru CollegeBacker by shopping online from 100+ name brands or by downloading and trying out mobile apps, refinancing their student loans, accessing online learning for their kids, doing their taxes, and signing up for other web or app-based services.
"For young families, saving for college is a struggle in the best of times," said Lee. "The current health crisis and volatile economy have unfortunately made it far worse for many. We're now expanding access to CollegeBacker to millions of families who will hopefully be able to leverage our innovative and social savings tools to make up for some of the damaging effects of COVID-19."
Over the last decade, college debt has doubled and now stands at more than $1.7 trillion. Surveys indicate millennials are starting to save for college earlier than prior generations and are increasingly turning to family and friends for help.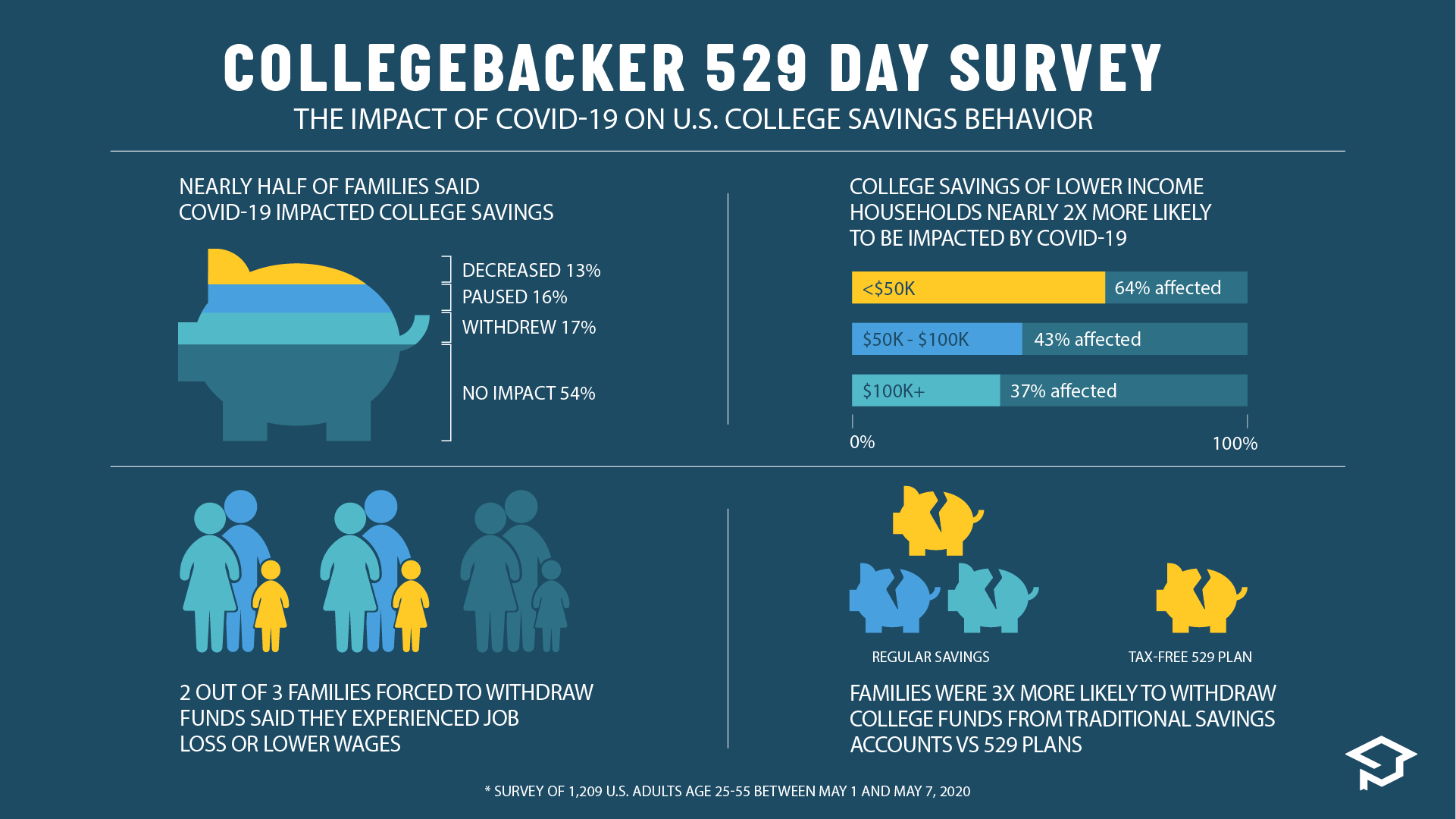 About CollegeBacker

CollegeBacker helps families save more for college with tax-free investing, gifts from family and friends, and cashback from online shopping. In just a few minutes, a parent can open and start investing in a top-tier 529 savings plan – or link their existing plan – and build a community of supporters to help them save more. Based in San Francisco, CollegeBacker is backed by leading edtech and fintech VCs as well as Princeton, Dartmouth, and USC. It has introduced tens of thousands of low- and moderate-income American families to 529 plans, helped them save over $6.5 million for college, and helped their kids avoid over $20 million in student loans.